This Cookies Policy describes the different types of cookies and similar technologies that may be applied on the Corsec Security, Inc. ("Corsec" or "Corsec Security") website ("Website" or "Site").
Please refer to the updated date at the bottom of this page to see when this Cookies Policy was last revised. Any changes in this Cookies Policy will become effective when we make the revised Cookies Policy available on or through the Site.
If you have any further queries, please contact us by email at privacy@corsec.com or write to us at the following address: 13921 Park Center Rd. Suite 460, Herndon, VA 20171, United States.
1. What is a Cookie?
Cookies are a small amount of data that we collect on the Site to tell us about your visit to the Site. Cookies help us to learn which areas of the Site are useful and which areas need improvement.
You can choose whether to accept cookies by refusing or accepting our cookie policy by changing the settings on your browser.
2. What Cookies Do We Use?
Below we list the different types of cookies that may be used on the Site. To the extent any Personal Information is collected through cookies, the Privacy Policy applies and compliments this Cookies Policy.
The Site uses both 1st party cookies (which are set by the Site being visited) and 3rd party cookies (which are set by a server located outside the domain of the Site).
Essential Cookies:
Essential cookies enable you to navigate the Site and to use its services and features.

Preference Cookies:
Preference cookies collect information about your choices and preferences, and allow us to remember language or other local settings and customize the Site accordingly.
Social Media Cookies:
Social media cookies collect information about social media usage.
Analytics Cookies:
Analytics cookies collect information about your use of the Site, and enable us to improve the way it works. For example, analytics cookies show us which are the most frequently visited pages on the Site, help us record any difficulties you have with the Site, and show us whether our advertising is effective or not. This allows us to see the overall patterns of usage on the Site, rather than the usage of a single person. We use the information to analyze the Site traffic, but we do not examine this information for individually identifying information.
Advertising Cookies:
Advertising cookies are set to display targeted promotions or advertisements based upon your interests on the Site or to manage our advertising. These cookies collect information about your activities on this and other sites to provide you targeted advertising.
Cookies Corsec Uses: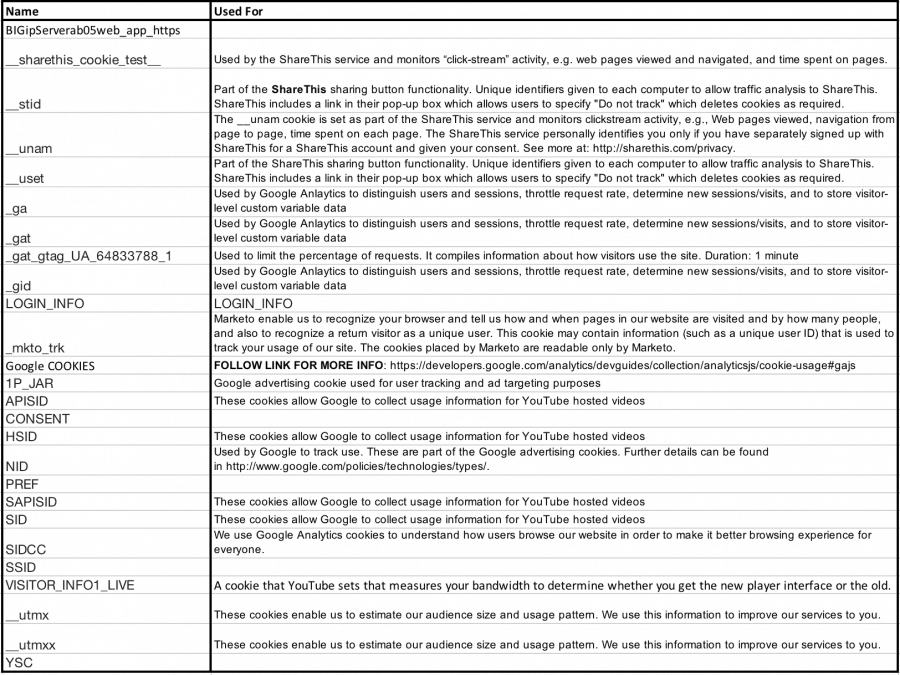 3. How Do I Manage Cookies?
If you are a Visitor, you can opt-out of our cookies. In addition, you may refuse or accept cookies from the Site at any time by activating settings on your browser. If you use the Site without changing your browser settings or by accepting our cookie policy, we'll assume that you're happy to receive all cookies on the Site.
Information about the procedure to follow in order to enable or disable cookies can be found on your Internet browser provider's website. Browser manufacturers provide help pages relating to cookie management in their products. Please see below for more information.
Last Updated: May 15th, 2018