Corsec Validation
Complete Government & Regulated Industry certifications with an end-to-end approach – Done Once, Done Right!
What We Do:

End-To-End Support
Corsec's Turnkey engagement manages the security certification process so you don't have to. An efficient and economical approach to minimize operational disruptions, improve financial returns, thwart delays, and decrease risk.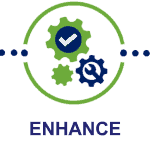 Reinforce the cornerstone of your project with sound documentation. A Quality Panel Review and Advocacy Team defend your position against government/lab questions, comments, and interrogations.
CREATION
Development of a customized submission package based on product design and analysis
FORMATTING & REVIEW
Verify adherence to policies and guideline through Quality Panel Review inspections

SUBMISSION & ADVOCACY
Timely submission and vendor advocacy reduces redundant efforts and improves efficiency
Lab & Government / Scheme Support
Alleviate the stress, resource constraints, and process of selecting a Lab and interactions with Schemes/Governments for your security certification project.

PROGRAM MANAGEMENT
End-to-end coordination synchronizes internal alignment, ensures adherence to milestones, and guarantees project schedules
LAB COORDINATION
Receive first-priority resource assignment by pairing your requirements to members of our Lab Partnership Network

SCHEME SELECTION
Agnostic guidance streamlines the certification process, finding the most efficient path to certification
Maintenance & Compliance Services
Keep your security certifications up to date and your product market ready. Stay on track with a unique maintenance and renewal plan for your product – eliminating disruptions to your revenue stream
COMPLIANCE SCHEDULE
Coordinated product changes and releases guarantee your certification status isn't jeopardized

MAINTENANCE PLAN
Maintain your investment and avoid certification lapses with a detailed maintenance project plan